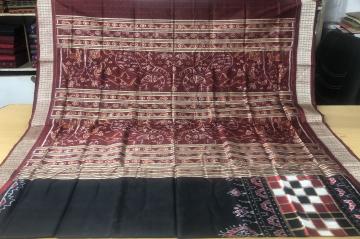 Have you ever seen silkworms weaving their magic? Indeed, all the women and others who prefer silk-based apparel owe their love to the silkworms, whose skin makes it possible for them to wear their preferred apparel.

With this in mind, we would like to showcase our Pasapalli Skirt border scenic beauty Aanchal Silk saree, adorned as it is, with peacock motifs, a bird we have all come to almost deify, due to Lord Krishna, who as is well known, wears a peacock feather in his head.

It is in the region above the border of the saree (woven with the holy Rudraksha beads which give the saree a holy air) where one can see the double Ikat woven Pasapalli pattern augmented by traditional motifs.

The Aanchal of the saree looks quite resplendent with motifs of conches, flowers etc giving it an air of divine harmony.
Rs.17500.00
($
269.23
) Condition New
(shipping +shipping tax extra)