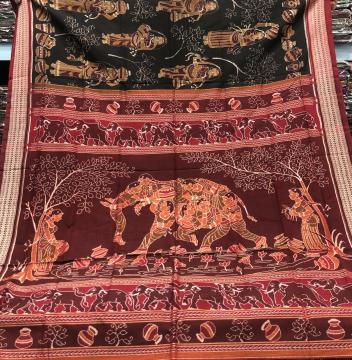 Though this may not be a very commonly known fact, it stands that elephants are commonly matriarchal in nature, that is, in their herd, it is the female who usually leads the herd.
The same can be said to be true for the women of our society. Though fundamentally, males appear to have dominated for years now, the truth is, women have always either directly or indirectly impacted society in numerous ways, such as for instance, by giving birth to Life itself, supporting entire families with smiles on their faces and steel in their hearts and so on.

Thus, our weavers decided to pay homage to both the species, that is, namely, the elephants and the women in the form of this black bodied intricately woven double Ikat saree with the motifs of women carrying water on their heads and elephants present on the body and Aanchal respectively.

The beautiful fusion of maroon and black hint at the colors of the red earth and the blackness of darkness, which create a simple yet alluring contrast.
Rs.18000.00
($
264.71
) Condition New
(shipping +shipping tax extra)
Shipping will be delayed due to CORONA Threats.