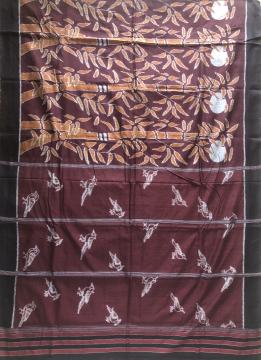 Contact Us In Whats app




As back then, bamboo trees continue to be an integral and vital part of our daily lives, finding various applications in the form of hardy furniture, walking sticks for the hold, building temporary shaminanas or structures, etc.

Apart from having so many utilities in the modern world, the bamboo trees serve yet another very vital purpose; i.e, they help the ecosystem around them thrive by virtue of providing shelter from the heat of the sun, providing spaces for the habitation of the avian species, etc., something which our weavers wove into the fabric of our saree as well, done up in a rich brown colored body, with the young bamboo trees or shoots represented in an rust tint, an aesthetically pleasing combination complemented by the royal navy blue blouse, with black stripes, with this juxtaposition of colors representing the Earth and the Sky.

We would love for you to purchase this saree, as it is available till stocks last, and as of always, we would wish for our patrons and esteemed customers to be healthy and safe amidst this pandemic.
Rs.6000.00
($
90.91
) Condition New
(shipping +shipping tax extra)