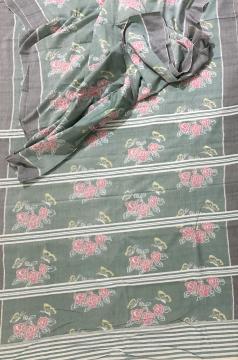 Contact Us In Whats app




In these currently trying times of the Covid-19 pandemic, almost everyone across the world has realized the value, or rather, the true value of Mother Nature, after having been cooped up for long periods of time at home, and as such, these folk now find themselves scurrying to their nearest parks and recreation grounds whenever time allows, for who doesn't enjoy the sight of the freshly watered grass, and butterflies, dragonflies, etc. flying about the bushes, etc.?

It is with this thought in mind that our talented weavers at Orissa Handllooms decided to incorporate the above aspects on our latest saree, fresh off the handlooms, by way of giving people who are unable to enjoy Nature frequently the very experience of the same. The pleasing dark green color of the body is complemented by the lighter shades of the motifs of the butterfly and bushes, which stand out as a measure of aesthetic relief, while the aanchal of the saree celebrates the essence of the earth we all walk upon.

We would love for you to purchase this saree, as it is available till stocks last, and as of always, we would wish for our patrons and esteemed customers to be healthy and safe amidst this pandemic.
Rs.6500.00
($
98.48
) Condition New
(shipping +shipping tax extra)