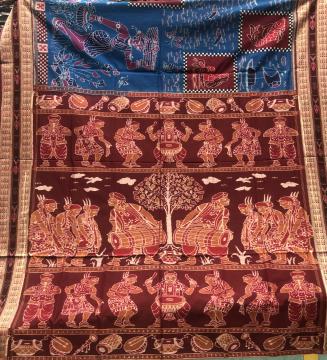 Since time immemorial, rivers and water bodies have been indispensable for civilizations across the globe, be it for the Egyptian civilization or the Indus Valley civilization.

Even in the world of today, rivers continue to prove to be of vital importance, helping people navigate in places like Kerala, serving as bathing places for people and their animals living in villages, and as places teeming with fishes, which are considered staples in places like West Bengal, Odisha, Assam etc.

It is to pay homage to these indispensable water bodies that our weavers at Orissa Handloom decided to craft this beautiful blue, maroon cotton Ikat saree with traditional fish motifs border, interspersed with it s motifs of fisher women, fishes, mermaids, boats and weeds beside the rivers, thereby adding an element of tangibility to this inescapable part of our culture and way of life.
Rs.15000.00
($
227.27
) Condition New
(shipping +shipping tax extra)