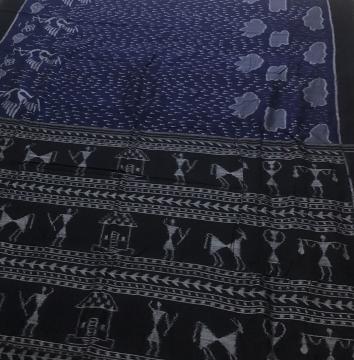 Contact Us In Whats app



The low rumbling of the clouds, the first specks of the monsoon rain, these are much desired and cherished sights for the parched earth and our eyes, even as the sun appears to mock the reason for its temporary invisibility, with immense disdain.
In a country that thrives on agriculture, the monsoon season is but an integral part of its everyday life, influencing everything from the growth of the crops to working hours and so on and so forth.

As such, it is joyously received by nearly all living organisms across the globe, as conveyed by our beautifully and exquisitely crafted cotton Ikat saree, which depicts the Jacobean Robin/Chataka bird dancing in joy on the body of our saree, as the first drops of rainfall permeate its feathers along with the tribals depicted on the aanchal, who partake in their revelry, by thanking Mother Nature for her bountiful gifts.

Our saree is complemented further by a delightfully striped blouse.

We would love for you to purchase this saree, as it is available till stocks last, and as of always, we would wish for our patrons and esteemed customers to be healthy and safe amidst this pandemic.
Rs.5000.00
($
75.76
) Condition New
(shipping +shipping tax extra)