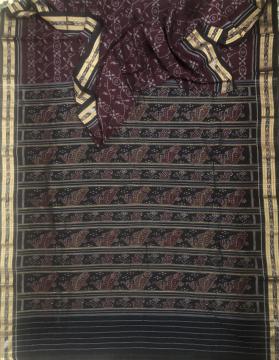 Contact Us In Whats app

Almost everyone across the globe has at one point in time or the other has wondered about where they came from, and why things are as they are with respect to the way they interact with the world around them. Indeed, some of these musings, in the decades gone past, have actually inspired discoveries like the airplane, the telephone, the submarine, etc., and so on and so forth.

And despite the occasionally contradicting theories, the most popularly accepted one is that of life originating in the sea, to the depths of which our weavers at Odisha Handlloom decided to take all of you, i.e, our dear customers, in our latest offering, that is a tastefully done dark brownish maroon-and-black all-over Ikat saree, with its motifs of countless fishes swimming in the sea of the saree, depicted in maroon against black, hinting at the origins of Life itself, interspersed with the waving underwater plants, depicted in red against the maroon of the saree.

We are sure our dear patrons would love to purchase this saree, which would make a fine addition to their collection, and as of always, we would wish for our patrons and esteemed customers to be healthy and safe amidst this pandemic.
Rs.4500.00
($
68.18
) Condition New
(shipping +shipping tax extra)