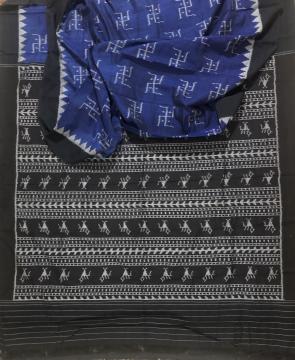 Contact Us In Whats app




Since time immemorial, the Swastika, or the symbol of 'good luck and prosperity has been synonymous with the land of India, or Bharat as it was known in ancient times. This is a symbol, which barring its ill-usage during a certain period of the 20th century, which one often made before consecrating a new house, or starting an enterprise, etc. and so on and so forth.

Thus, it is no surprise that our weavers at Odisha Handlloom chose to weave this symbol into the fabric of our sarees, ensuring a favorable run of good luck and prosperity for the wearer and her family, as depicted in white against a blue background on the body of the saree; a soft aesthetic combination pleasing to all that behold it.

As with our other creations, (which can be found at our website: http://www.orissahandloom.com/), the timeless tribal population of our native land find their way onto the aanchal of our saree, which is a delightful cotton Ikat saree, signifying the nearly eternal bond which exists between Nature and her Children.

We would love for you to purchase this saree, as it is available till stocks last, and as of always, we would wish for our patrons and esteemed customers to be healthy and safe amidst this pandemic.
Rs.5000.00
($
75.76
) Condition New
(shipping +shipping tax extra)