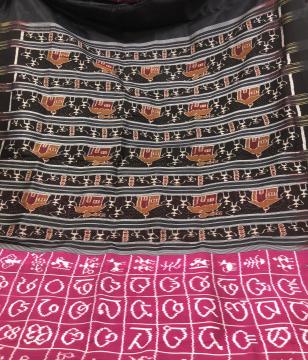 The month of January has a rather unique place in the calendar, not just because it is the very month that ushers in the New Year every year but also because of the incidence of an event that is known by many of its varying names throughout the country, which are unified by a common purpose, that is, to celebrate a good harvest reaped during the previous season or year, as well as pray and hope for a better harvest for the upcoming sessions. That event is Sankranti, known as Pongal in the South, Poush Sankranti in the East etc.
Interestingly, January is also known as the month of serious study and a sense of discipline, or a month wherein one devises or thinks of ways to combat the lack of activity in the previous month.

It is to celebrate such a month that our expert weavers at Orissa Handlooms put their hands together to craft this beautiful Ikat weave silk saree, with its magenta shaded body depicting the letters of the Odia alphabet, signifying education and a black Pallu or Aanchal layered with motifs of tribal huts with their inhabitants dancing in joy, as a method of expressing their happiness for the bountiful harvest reaped, and the expectations of a better harvest for the next season.

We would therefore urge our dear customers to purchase this intricately woven and beautifully crafted saree till stocks last. As of always, we would wish for our dear customers' health and happiness, along with those of their families, and urge them to follow all the necessary rules to combat this pandemic.
Rs.18500.00
($
280.3
) Condition New
(shipping +shipping tax extra)