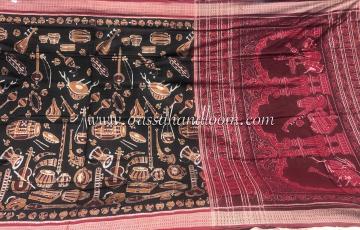 Though we do not really pay heed to this fact, the truth is that music plays a very important part in our lives.

Whether we're on our way to work, or whether we are working at home, or if we simply want to just relax and kick back after a long day, music is something which brings about a positive side and change in all of us.

The strumming of a guitar or sitar, especially on a rainy day, or say the playing of a tabla or a similar percussion instrument on a windy day, and so on and so forth, are things or incidents which all of us look forward to.

Due to this love for music which is deeply ingrained in our psyche, our weavers at Orissa Handloom chose to imbue our newest sarees with the same, as can be seen, with the motifs of several musical instruments which are familiar to us such as dholak, sitar, tambola, shehnai, tablas etc.

The rich combination of musical instruments woven with the rust and maroon color create a rich contrast with the black color of the saree, which when combined give rise to aesthetic pleasure, both for the wearer as well as the people who view the wearer.

It would thus be rhetorical to say that this saree would obviously add elegance to your wardrobe.
OUT OF STOCK
Rs.12500.00
($
181.16
) Condition New
(shipping +shipping tax extra)
Shipping will be delayed due to CORONA Threats.