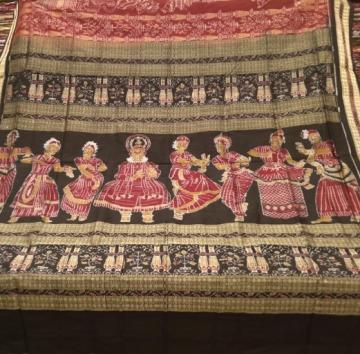 Dance is an ancient and cultural tradition in India . Bharatnatyam , Odishi , Kuchipudi , Kathakali, Manipuri, Kathak are the most important classical dance forms of India.

Sa-re-ga-ma , pa-dha-ni-sa, run the seven notes of Hindustani classical music. Many thousands of years ago, these seven notes had been accompanied by a series of instruments such as the tabla, the mridangam, the dholak and so on, in what was known as temple dancing, that is, talented young women who danced in honor of the deity of the temple they were dancing in.

Our country has indeed been a host to a variety of dance styles, each with its own distinctive set of poses, and mudras.

It is to honor and look back at these tradition of ours that our expert Master weavers at Orissa Handloom once again tapped into their reservoir of endless creativity to produce this magnificent Ikat silk saree with it`s distinctive patterns of dancers from across our country.
Rs.54000.00
($
818.18
) Condition New
(shipping +shipping tax extra)