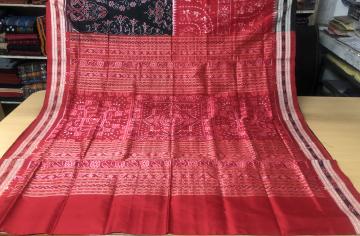 Most people associate trials with a lack of civilization, and illiteracy and culture, without realizing that tribals are actually an epitome of the natural way of life, that is life before technology encroached upon it.

In keeping with our love for tribal culture and way of life, we at Orissa Handloom present to you our half and half Ikat woven silk saree which is mainly dominated by a vibrant shade of red, and a somber yet rich shade of black.

The designs on the sarees are akin to geometrically precise lines of poetry, depicting flowers, trees and the tribals celebrating the essence of Nature.
Rs.19000.00
($
283.58
) Condition New
(shipping +shipping tax extra)
Shipping will be delayed due to CORONA Threats.