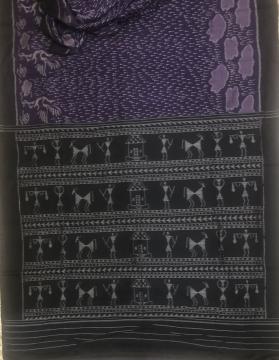 Contact Us In Whats app


Odisha is famous for its hand woven sarees and other handicrafts.
Sarees and hand-woven clothes are found in different places of Odisha like Sambalpur , Sonepur , Nuapatana , ragadi etc.

This saree is a product of Nuapatana which is a belt of skilled weavers for many years.

This Nuapatana cotton saree is representing the moods of nature with floating clouds , birds (Chatak) enjoying long awaited rain falling on the earth covered with small plants , trees .

The bird chatak through out the year waits for rain to quench its thirst. Its sincere desire for rain water symbolises the dry earth's wait for rain which makes it green and giving all new life .

In the Aanchal there are traditional tribal men carrying "kalash" in "bahungi" (hanger stick to carry on shoulder ).

So you can select this beautiful saree by visiting our website .
Rs.5000.00
($
75.76
) Condition New
(shipping +shipping tax extra)