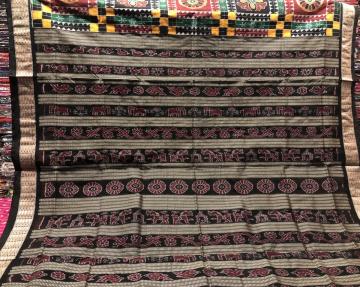 An art of an artist and a weave of a weaver when come together they make Magic .
An authentic odisha Utkallaxmi ikat weave has mused in to the tune of an artist.
Check the art in the anchal, traditional motifs like peacock , conch , flowers , wheels etc .
There are trails of Meena (Fish`s) making their way on border .
OUT OF STOCK
Rs.22000.00
($
333.33
) Condition New
(shipping +shipping tax extra)
These are handmade.
No two Sarees are equal..
even if from the same loom,
with same design,
and even same batch !!

Handloom can't compete with machines.
The weaver works 12 to 15 hours a day for 10 to 12 days to prepare one.