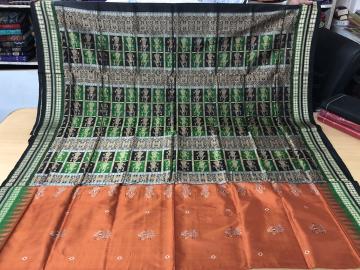 Bright.Wonderous.Narangi.Putuli.Rudraksh.
This saree has it all.A fine silken weave from the western parts of Odisha. Also famously known as `Bomkai Patta`. This is a timeless weave carried on from generations together without losing its charisma. It indeed is a take home for every woman who has promised to keep in herself the joy of a little girl alive.She brightened up every time she saw a dancing doll.Didnt she ? If so the putuli symbolic of dancing dolls await a friend in you.

Oh! Look at the uniqueness of the border.Dual lines of rudrakash woven in black and in green. Rudrakash signifies the strength to attain everything that the eyes look at.

This saree is dedicated to strong women who dream beyond the false barriers set for her.Yes, you are the woman I am talking about.

Not to miss, the gradual highs on the borders the ikat temple motifs that are safely guarded by the woven rudrakash.
Rs.9499.00
($
150.78
) Condition New
(shipping +shipping tax extra)