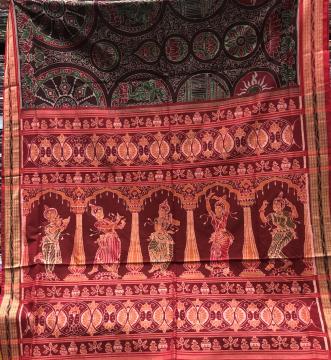 Lord Vishnu is often referred to as the Protector of the Universe, with Lord Shiva and Lord Bramha receiving the titles of The Destroyer and The Creator respectively. If one looks at the records of Ancient India, then one finds that Lord Vishnu has been worshipped for the past few thousand millennia.

Now, as we know, every deity associated with our culture possesses some objects which have become their recognizable motifs, no matter which corner of our country we are in.

Our weavers at Orissa Handloom thus decided to pay homage to Lord Vishnu by incorporating some of His motifs like the conch shell, the wheel and the mace in our cotton double Ikat woven saree, whose Aanchal boasts of dancers skilfully woven into the material.

Also, if one looks closely, then one can also find motifs of the elephant, Lotus , Sun, Temple too which are intricately woven by our expert weaver .

Do visit our website for exquisite sarees.
OUT OF STOCK
Rs.18000.00
($
272.73
) Condition New
(shipping +shipping tax extra)