BOMKAI SAREE - Modern in Design with Traditional Tinge.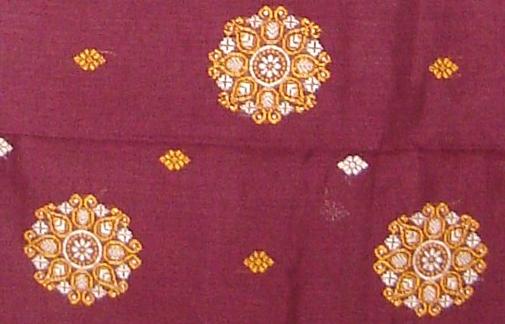 Bomkai sari, also known as Sonepuri sari is uniquely woven sari which hails from the western part of Odisha. The original and traditional weaving of this sari was made in low-count cotton yarn which is usually, coarse, heavy and dyed in intense colours. The Bomkai sari is available in cotton, and silk fabrics. These saris are popular amongst the fashion designers and have a wide acceptance. The sari conventionally has got its name from the Bomkai village in the 1980`s. In early times, the fabric of the sari was usually meant for the kings and monarchs, people from aristocracy and affluent people.

Bomkai cotton saris are mostly accepted for habitual wear and the silk sari is put on ceremonies and sacred occasions. The stylish designs are embodied with captivating colours to give the gracious look to the woman wearing the sari. The ancient belief is depicted in its border Mostly the design of fish is seen in the sari as it is believed to be a sign of success and affluence. The most charming part is its thread work in the designs of the border and the pallu. The appearance of the sari is related to simplicity and has a tribal tinge in it. The sari is normally dyed to attain the red, black and white background colours. However, today you will find the sari in several designs and multiple colours while retaining their originality. The warps are suitably woven to produce multicoloured end piece.

Several patterns are found in the sari which has different names like pestle (rukha), hour-glass shaped drum (dambaroo), small flowers (kanthi phoola), bitter gourd (karela), peacock (mayur/mayuri), fish and few designs custom made. The design is basically the weavers thought, perception and choice. The supplementary-warp model of the borders in the sari is called as mikta panji, which is a trelliswork with diamond form that gives the sari its prominence and distinctive attribute. However, in general the sari is processed in warp and weft.

In modern days the Bomkai sari is available in silk and cotton fabrics. The sari is extra-ordinarily woven in the end piece (pallu) with several contrasting colours and designs. The weaving of Bomkai sari is time consuming and labour intensive. The weaving of the sari follows the tie and dye method and has unique designed `bandha`. The procedure used in Bomkai pattern, in the sari, is known as Jala technique.

The `Bhulia` community who are the founder weavers of Bomkai sari, used to export these saris to Thailand, Indonesia, and other south-east regions in earlier days. Today the marketing of Bomkai sari is done by government monitored agencies and have vast opportunities to internationally market the saris. The Orissa Handloom Weaver`s Corporation will provide all the information, to interested traders, in marketing Bomkai sari nationally and internationally.