BAPTA SARI- A perfect blend of cotton and silk yarn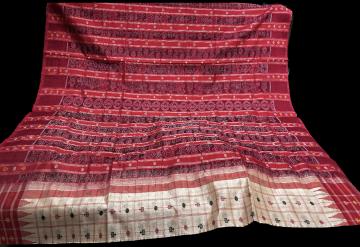 Sari is a traditional form of dress for Indian women. Indian sari is popular in the western world as well for its designs, colours and distinctive simplicity. There are varieties of saris in India but what has attracted most to the women is the traditional saris. These sari`s have different names each corresponding to the place of their weaving or manufacturing. However, `Bapta` is one such sari which has its name from the fabric. The weaving with cotton and silk amalgamation is known as Bapta. Bapta saris are improvised with the use of gold coloured yarns or threads to enhance its elegance.
Bapta is basically a design of the famous Sambalpuri sari. The originality of the saris is its `Baandha` or `Ikat`. This a technique of tie-dye of yarns by which you derive at a fixed pattern. This pattern is conceived before hand and the tie-dye process is executed to meet the motif. After the tie-dye process the yarn is set into intricate rolls to get the desired absorption of dyes at the required places. The patterns are then woven in an elaborate way by the weaver. The saris thud produced have distinguished angular supplementary-weft patterns with different colors to match the sequence.
The traditional Bapta sari has elegant motif, colors and smoothness of fabric. This has increased its popularity and today it is much in demand. The intricate art work of cotton and silk thread together gives a superb dimension to its gracefulness. On the borders of the sari the twist and bend of the weaving continues whereas in the `aanchal` the weft is done giving a powerful glamour to the overall sari finish. It is surprising to know that earlier the weavers used to use the wool and the lotus stocks instead of cotton and silk threads. Bapta sari takes almost a week`s time to reach completion. The delicate use of design, weaving and consistency of the quality has made Bapta sari an icon brand.
The colorful motif, highly professional artistic patterns and the quality of the fabric has been widely praised around the world. However, we still lack in reaching the women of many countries. Age effort is undertaken by The Government of Odisha and Government of India through its subsidiaries to promote the sari internationally. A particular wing Orissa Handloom- is entrusted with the development of the weaving community and marketing its product at various national and international levels. For more information on trade visit our website for detail information.