PASAPALLI SAREES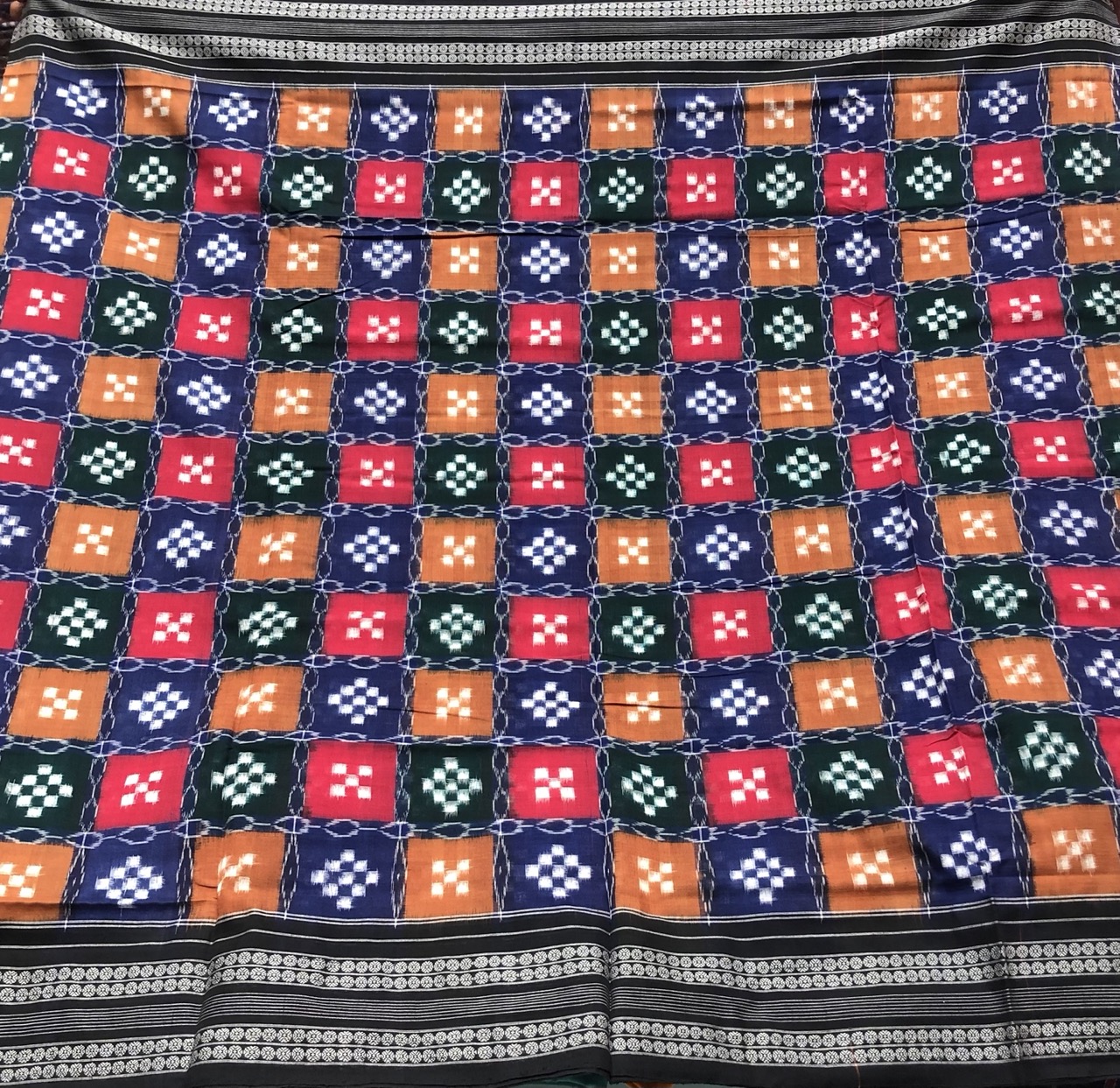 India is rich in its culture and so also its states. Each state has something or the other to boast upon. Odisha is one of them, which is rich in culture, tradition, art and architecture, dance, textile and many more. The textile tradition is very old. Again, each part of the state has its own traditional textile, such as sari and dress material. In the western part of Odisha we have famous Sambalpuri Sari that is very popular across the globe. Sambalpuri sari has got several variants and Pasapalli is one of them. Pasapalli sari is a hand woven sari made of silk fabric and has a beautiful and exclusive `aanchal`.
Pasapalli sari is woven mainly in places like Sonepur, Barpali and Baunshri. The specialty of the sari is, it has chess board like prints in the entire body with characteristic white and black/red squares. The sari is normally made from cotton, tassar, silk and silk and tassar combined. The sari is given additional face-lift with the golden coloured threads. The thread makes the sari look more fabulous. The borders of this sari are usually decorative and the `aanchal` is designed in various patterns. The excellence of this weaving is accredited to the ancient weaving art form called `baandhakala`. This is a very intricate method and done manually with great caution.
The `baandha` is performed by tie-dye method which is unique in itself. To create this, yarns are rolled and tied in distinctive style so that certain portion of the yarn is prevented from absorbing dyes. This facilitates the weaver to have the motif on both the side of the Pasapalli sari alike. This baandha technique enables the weaver to weave the sari in different patterns, colors and multiple designs. With this technique the weavers weave the images like the flowers, landscapes, geometrical patterns and several other designs which are made to order. The baandha is carried out with an initial conceived idea and then such conceived pattern are inducted in the yarn roll, thus facilitating which place to dye and the place to prevent from dyeing.
The aanchal of Pasapalli sari has peculiar traditional designs woven in the sari like sankha (conch), chakra (wheel), phulla (flowers), animals, birds and at times temple like imprint. This portrays the artistic level of the weavers and their craftsmanship. The entire weaving method of the Pasapalli sari runs through an intricate procedural technique.
The efforts of Government of India and Government of Odisha along with their associated bodies have geared up from the 1980`s to market the traditional hand-woven saris in the national and international field. Wherever, Odisha`s traditionally weaved sari has been exhibited, it has drawn very encouraging responses and many times has been awarded nationally and internationally.