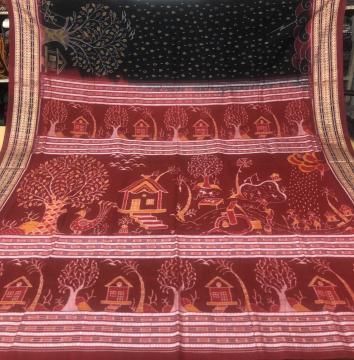 With the last vestiges of winter gradually wearing away, and all of Mother Nature's greenery holding its sway, our expert weavers at Orissa Handloom decided to welcome the onset of spring in style by designing our latest Ikat weave cotton saree, decorated or patterned with motifs of the scenic beauty which one is bound to find in the villages all across India, and also of the rain, which is responsible for the lush, bountiful presence of trees we often see there.

Trees with swings give people joy of festivals in rain .

The fusion of the Maroon and black colors of the saree hint at the mercy and blessings of Lord Jagannath whose blessings are also responsible for the lush greenery and beauty of our country.

It would be rhetorical to say that this saree would make a great addition to your wardrobe.
OUT OF STOCK
Rs.11500.00
($
174.24
) Condition New
(shipping +shipping tax extra)