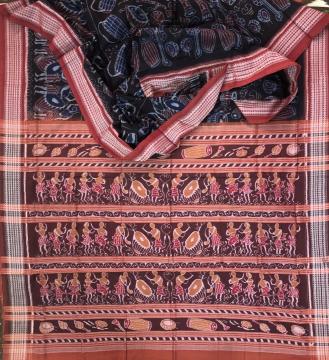 The body of the saree is coffee color not black .

India is a country of Festivals . There is always a celebration in our mind for the different festivals, it's not surprising that our weavers chose to imbue our most recent sari with the same spirit of festive joy, in the form of tribal figures who are depicted playing musical instruments such as the big tribal war drum, etc.

The presence of other musical instruments such as the dholak, shehnai, cymbals etc suggest the musically sonorous atmosphere that prevails during Festivals and marriages in our culture .

One can thus be left in no doubt that this saree has a lot of special symbolism which should not be ignored, for the symbolism adds special meaning to a festival .


Rs.8500.00
($
125
) Condition New
(shipping +shipping tax extra)
Shipping will be delayed due to CORONA Threats.