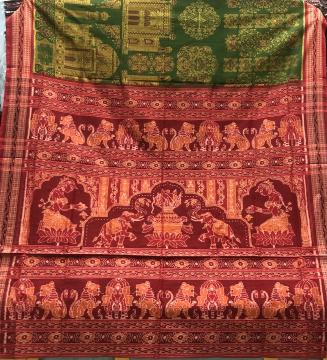 The Taj Mahal has long since been recognized as an enduring symbol or monument of nearly eternal love. Built by Shah Jahan as a memorial to Mumtaz Mahal, this white marbled monument has seen a lot of our country`s history.

Nature is also an equally important part of our lives, in India as well as abroad. In jungles, animals like the elephants and lions are the animals who hold the most sway; of course, other animals do so as well, however, in terms of their majesty, dignity, and sense of power, they do quite well for themselves.

With the world around us gradually descending into turmoil, our expert weavers at Odisha Handloom decided to incorporate the elements of nature and monumental beauty into our latest creation, that is an exclusively woven cotton double Ikat saree, which as you can see is adorned with the motifs of the Taj Mahal on the body, imbuing the body with the very passion of Shah Jahan`s love whereas the Aanchal of the saree is decorated with motifs of elephants and lions.
Rs.13000.00
($
196.97
) Condition New
(shipping +shipping tax extra)