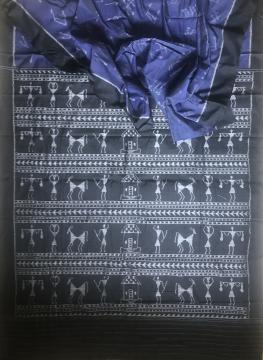 Contact Us In Whats app



Nuapatana is place of creative weavers creating various new designs of sarees .
This one is a navy blue coloured cotton saree with black border .
Body portrays our notes of music instrument .
Music is deep rooted in our mind and life so its presentation makes us happy and contented .
Aanchal is beautified by tribal arts of men hanging kalash (earthen pot) in bahungi (hanger ) , huts and animals too .
This hand woven one is called bandha saree locally , which is widely known as Ikat weave .

It is our pleasure when you choose this as a part of your wardrobe .
Rs.4500.00
($
68.18
) Condition New
(shipping +shipping tax extra)