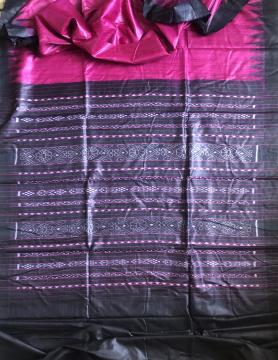 Handwoven Motifs offer a uniqueness to the traditional sarees upholding a creative expression within the craft.
Floral and animal motifs have held a place of importance in textile designs since ancient times.
In most of the folk cultures and folk lore, the fish is considered as a universal symbol of fertility and symbol of purity in many cultures.

Keeping this thought in our mind, Odisha Handloom presents you its solely temple border Gopalpur Tasar saree furnish with floral and fish motifs, intertwine in the Ikat weave .
We can solace u, blends inventiveness and elegance in manner which has allowed to create niche itself .

This saree presents a graceful finish with its boarders marked by temple motifs. These motifs carry symbolic meanings that reflect religious.

Like most of our products, this saree also comes with a delightful and simple Plain black Blouse piece which will make u look beautiful.


Rs.5500.00
($
83.33
) Condition New
(shipping +shipping tax extra)