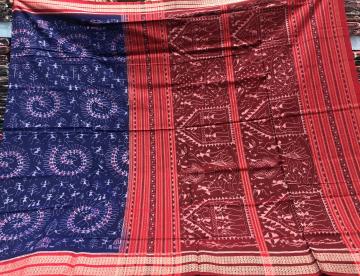 All of us love using different products or apparel to make us look more attractive in some way or the other, say, for example, a Beauty soap or an Armani dress, or in fact one of our own creations, that is, our sarees.

However, almost nobody thinks about the people behind the same products, that is the expert weavers behind our very own sarees, and so on.

Indeed, when we bring our newest apparel for you, that is a vioet-colored bodied saree with patterns of tribals, which gradually diffuses into a Red aanchal patterned artfully with caterpillars which once again harks back to the tribals' connection with nature. This saree, like most of our sarees, is a cotton saree which is woven in the Ikat weave pattern.

We take this occasion to raise a special toast to our weavers whose tireless striving has enabled us to stretch our arms towards perfection, for our humble establishment would not have scaled the heights it has without the skill and talent of its weavers.
OUT OF STOCK
Rs.11000.00
($
166.67
) Condition New
(shipping +shipping tax extra)