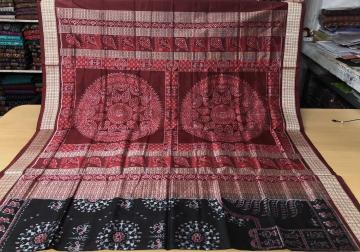 Tribal Motifs Silk Orissa Handloom Saree .

Wheels of glory reverberated in muse of Conchshells (Sankhas) when our humble weaver created this black beauty with a maroon anchal.

The anchal is adorned with conch-shells which are symbolic of new beginnings and victorious past.

We also have men guarding the holy tree of life protruding it`s goodness on the body of this saree.

Noticeable gatherings of mirth and men on this smooth irresistible Ikkat weave is a treat to the eyes!
OUT OF STOCK
Condition New
(shipping +shipping tax extra)