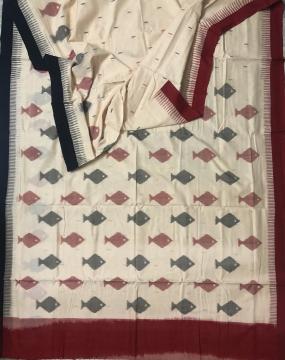 Whenever we feel like something is off, or something is wrong, we often use the phrase, "something is fishy about this".

Well, we would like to assure you that there is nothing fishy about one of our newest creation fresh off the weavers' corners, that is, an Ikat weave cotton saree with several motifs of fishes woven on it, supplemented by a pattern suggesting either a stream or falling rain, ensconced within the Ganga-Jamuna Border of the saree.

The rural theme of the saree creates an aura of simplicity that is quite soothing to wear after a long hard day.

The saree has an overall cream-colored shade, reminiscent of the huts of rural India, which soothe the eyes and usher in internal harmony, something which seems to be fast disappearing from today's world.

We would also like to take this opportunity to thank all of our loyal clients and customers, whose love and support continue to empower us and our dedicated team of highly skilled weavers to continue weaving their magic for all of you!


Rs.6000.00
($
89.55
) Condition New
(shipping +shipping tax extra)