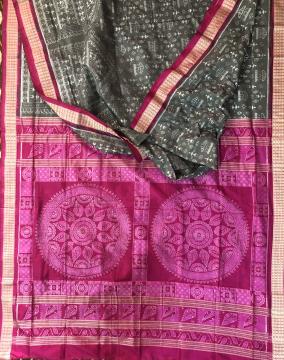 Rangolis have always been intimately associated with the human way of life since ancient times. Their intricate patterns, and inherent symbolism, represented with geometrical precision have always managed to capture our attention in ways more than one, by virtue of their beauty and role in our lives, primarily during festivals and the like.

With the same thought in their minds, our expert weavers at Orissa Handloom decided to craft this beautiful Ikat weave saree, with an aesthetically warm and eye-catching pink Aanchal layered with motifs of Jhotis or Rangolis as they are known here in Odisha, a combination which soothes and pleases the eye, and which is accentuated by the grey body of the saree, which has motifs depicting tribals and their homes, which also happen to be one of the most common platforms or places one can find such rangolis.

We would thus love to see our patrons and customers draped in this beautiful saree, and as of always, we would wish for our patrons and customers as well as their families to be safe and healthy during this pandemic.
Rs.20000.00
($
303.03
) Condition New
(shipping +shipping tax extra)