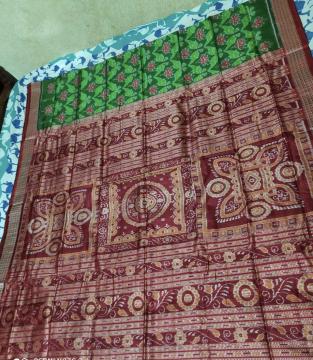 Sometimes, we human beings forget to count our blessings. Often, even when surrounded by the beauty of Mother Nature, we tend to immerse ourselves in our mobile phones, and thus ignore the natural bounty all around us.

However, to prevent further such events happening, our expert weavers decided to weave their magic and craft a saree laced with countless motifs of the lotus flower, a flower which is known for both its soft beauty as well as its tenacity to hold on to its roots, no matter how strong the current, and motifs of parrots, those green-feathered birds which signify Nature's gaiety and talent of mimicry, for do we not see Her glorious creations everywhere?


The painstakingly detailed saree, coupled with the rudraksh border and its fine silk cloth, which are woven in the Double Ikat weave, lead to a creation of beauty, meant to be cherished and loved by its wearer.
Rs.21000.00
($
318.18
) Condition New
(shipping +shipping tax extra)