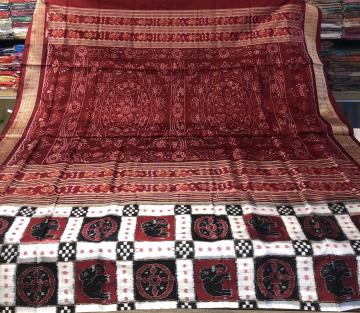 India has always been a land of fusion of a variety of styles, cultures and so on.

As a result, we at Orissa Handloom decided showcase the same with the help of our Passapalli Ikat silk saree with a traditional Jhoti pallu consisting of intricate flowery designs, which have been delicately woven in.

The motifs of the elephants and the chakra help in bolstering an image of strength and continuity, which are further denoted by the maroon color, standing for passion, and the black for the eternal darkness that is but Maya or illusion.

The white color of the saree denotes a peaceful balance between the two of them.

We would like to urge all of our dear customers to remain safe and happy .
Rs.25000.00
($
367.65
) Condition New
(shipping +shipping tax extra)
Shipping will be delayed due to CORONA Threats.