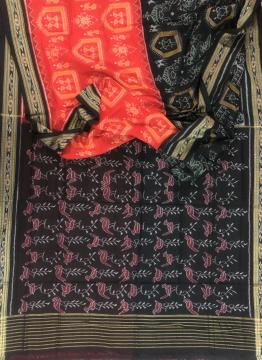 Birds have always inspired and fascinated the human species, be it leading to the invention of the Kitty Hawk (the word's first manned flight) or stories about Daedulus and his son Icarus, who attempted to escape the clutches of King Minos by building wings held together by feathers and wax.

As they have so greatly inspired and influenced daily life, our expert weavers decided to incorporate the same in one of our newest creations, that is an Ikat woven saree made of cotton, with its black Aanchal decorated with patterns of flying birds, suggesting great freedom of movement.

The weavers have done set of the saree in a half and half pattern tribal and peacock motifs too

Indeed, we can assure you that this piece will prove to be a great part of your wardrobe, due to its steady reliable pattern of red and black, eschewing its traditional values.
Rs.5500.00
($
80.88
) Condition New
(shipping +shipping tax extra)
Shipping will be delayed due to CORONA Threats.