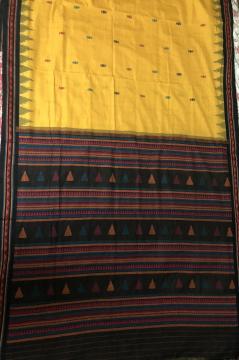 A splash of bright hues yellow from the turmeric, green from the dense tress of hills and the intensity of red (CAUTION) and black that symbolises pure elegance has come all the way from the
land of Nilayamgiri.
They say that tribes have built a community. From one such tribe that belong to the foothills of Nilaymagiri hills in the district of Rayagada, the Dongria Kondh.
'NIYAM RAJA IS OUR GOD AND WE WORSHIP THEM' This deep reverence that the Dongria tribe have for their God and the tall pillars of mother nature (hills and streams) is unmatchable.
The courage and scarifies made to stand as a protector of the tall evergreen hills reflects in this beautiful saree. This saree has a splash of mother nature. The joy and happiness of YELLOW soft
cotton drape with green meenakari all over the drape is a sure stunner to welcome summers.
The Dongria Kondh sarees are distinct and known for its unique geometric designs. The saree here has beautiful black pyramids on a red base. The word Dongria is derived from the word 'Dongra'
meaning hill and 'Jharania' meaning protector of rivers.
CHOICE! When you chose this saree you chose to uphold the valour of the KONDH TRIBE.
OUT OF STOCK
Rs.7000.00
($
111.11
) Condition New
(shipping +shipping tax extra)