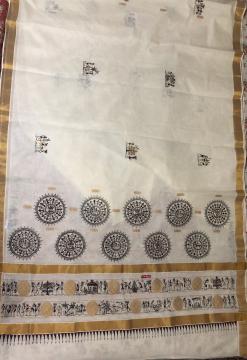 Sombre.Pristine.Off White with gold.
A Kasavu all the way from Kerala. This weave from Kerala has found home in the hands of a renowned artist in Odisha known for his resplendent tribal art.
Men and women,trees and flowers, life and livelihood all stand up for upholding the diversity of our nation.This anchal signifies oneness of strong men circling around the hope of divine faith .
OUT OF STOCK
Rs.4000.00
($
62.99
) Condition New
(shipping +shipping tax extra)