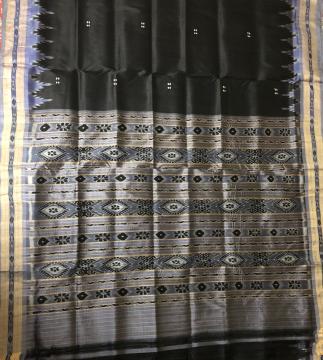 Powerful.Elegent.So Regal.

A subtle combination of the power colours black & purple.
This is a black kandua saree that has traces of Lord Jagannath.As Kandua silk is given as an offering to the Lord of Odisha by Weavers as a token of love from the region of Cuttack & Nuapatna. Jagannath is also referred adorably by his devotees as `Jaga Kalia`. Kala, baigani & chandi raang with white butis all over are a treat to the eyes.
Weavers require a lot of skill and artistry to churn out a beautiful piece of this kind. The one here is a blend of traditional designs and modern colours.The coloured anchal has done all the more justice to this power blend. Ladies I bet this will be a perfect head turner for an evening wear!
OUT OF STOCK
Rs.5500.00
($
87.3
) Condition New
(shipping +shipping tax extra)