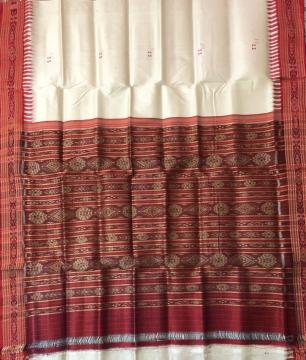 Colours.Red and offwhite(Creamish, soft and so like our own self) can never go wrong.
They signify oneness when together.The most perfect blend of all that is seen around.
A weavers choice of selected and best combination of colours is brought to you in this elegant yet divine khandua from Nuapatna.
The clustered four dots promises to invoke the divinity in us and upholds the true spirit of festivity.
The interesting borders has both bi lines in red and minute temple like scriptures...
OUT OF STOCK
Rs.5500.00
($
87.3
) Condition New
(shipping +shipping tax extra)