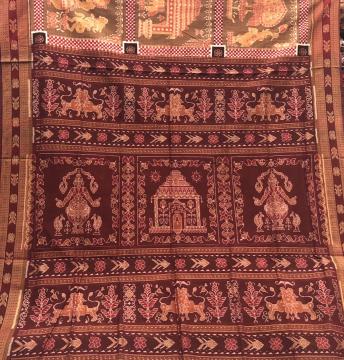 A splendid creation of a humble weaver who has been the best at it.
He is a recognised weaver the master of all.

We are presenting his saree that has enormous bit of Odisha`s culture.

An array of motifs depicting the rich heritage of Odisha Basi ( the people of Odisha).

A fine cotton Ikkat easy drape on for summers is richly adorned with `Nartakis`(Dancers in the temple) and the holy shrine of the great of Odisha(Bada Mandira).

The exquisite border and there are countless other charms to this saree.
Rs.16000.00
($
242.42
) Condition New
(shipping +shipping tax extra)
These are handmade.
No two Sarees are equal..
even if from the same loom,
with same design,
and even same batch !!

Handloom can't compete with machines.
The weaver works 12 to 15 hours a day for 10 to 12 days to prepare one.