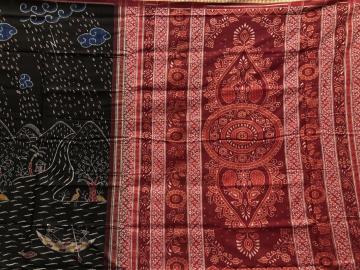 Megha barasila re ...An iconic pleasure that every farmer gets on the onset of monsoons and the joy mother earth feels on the first drop of rain.

It is said when it rains the sky meets the soil. Ah! Does it remind you of an irresistible smell, the smell of earth.

The perinnieal flow of river from the mountains is beaming with joy as the boats are sailing to the bigger shores of trade.

A landscape view of colours have found place in this black cotton weave.The resplendent anchal has added to the grandeur of the saree with the peacocks!!
OUT OF STOCK
Rs.13000.00
($
206.35
) Condition New
(shipping +shipping tax extra)