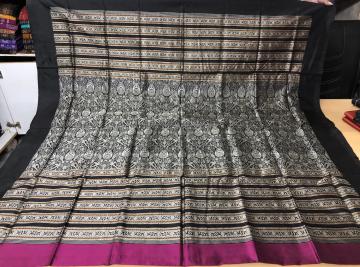 Shenayians dholaks!! Embarking the onset of wedding season in a twist of royal shade of pink with defined temple like black borders.

The endless tiny butis have created a subtle white effect on the saree..
A total bliss and joy to drape this memory of marraige and new beginnings.
Rs.9000.00
($
136.36
) Condition New
(shipping +shipping tax extra)
These are handmade.
No two Sarees are equal..
even if from the same loom,
with same design,
and even same batch !!

Handloom can't compete with machines.
The weaver works 12 to 15 hours a day for 10 to 12 days to prepare one.