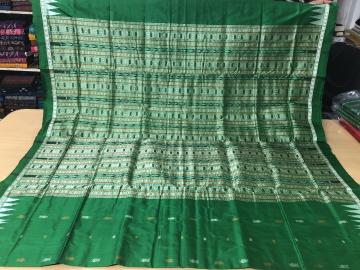 The grass grows greener where ever it is watered the more.It is more of green and greenliness.
It has been carefully weaved with the waters of life, renewal, growth, nature & energy.
The anchal is perfectly entwined with blends of Ikkat lines and motifs of Bomkai.
The body is kept simple and chic with fish & butas all over. The fine temple borders have been edged with a simple yet elegant line of rudrakash.
OUT OF STOCK
Rs.9500.00
($
149.61
) Condition New
(shipping +shipping tax extra)