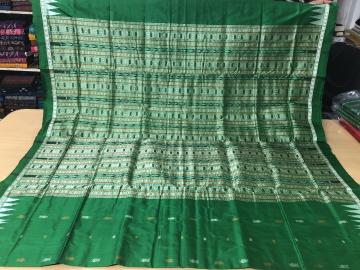 The grass grows greener where ever it is watered the more.It is more of green and greenliness.
It has been carefully weaved with the waters of life, renewal, growth, nature & energy.
The anchal is perfectly entwined with blends of Ikkat lines and motifs of Bomkai.
The body is kept simple and chic with fish & butas all over. The fine temple borders have been edged with a simple yet elegant line of rudrakash.
OUT OF STOCK
Rs.9500.00
($
143.94
) Condition New
(shipping +shipping tax extra)
These are handmade.
No two Sarees are equal..
even if from the same loom,
with same design,
and even same batch !!

Handloom can't compete with machines.
The weaver works 12 to 15 hours a day for 10 to 12 days to prepare one.