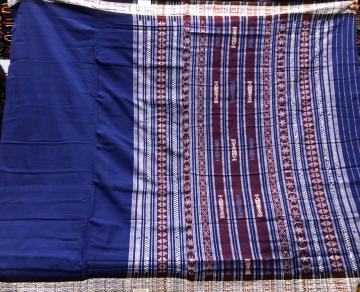 Blue from the deep sea and those tri-lines of fishes on the borders are like drops of diamonds in the magnanimous heart of the sea.

This coarse cotton drape is a traditional handloom and is indeed a `Pride of Odisha`.

Habaspuri from the kondh weavers Chicheguda, Kalahandi district. These weavers bring out their mastery over this 6 yard drape by weaving in unique one of a kind geometric patterns of this region like Kumbha(temple), Meena(fish) & flowers. This sari is adorned by fishes from the seven seas which represents fertility, strength and vitality.
Rs.6000.00
($
90.91
) Condition New
(shipping +shipping tax extra)
These are handmade.
No two Sarees are equal..
even if from the same loom,
with same design,
and even same batch !!

Handloom can't compete with machines.
The weaver works 12 to 15 hours a day for 10 to 12 days to prepare one.