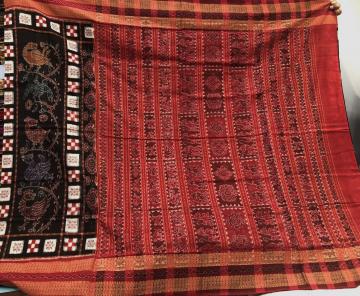 A blaster from our master weavers diaries of fine weaves.

A tremendously beautiful blend of Ikkat & pasapalli cotton weave has left anyone in awe of its exquisiteness. T

his majestic weave has it all Beautiful birds showcasing their gracefulness, Singha( lions), Harina(doting deers) , Meena (fish) , elephants & flowers ( Pushpa) and many more for you to unravel when you envelope yourself within it and those thick borders guarding the traditions.
OUT OF STOCK
Rs.16000.00
($
242.42
) Condition New
(shipping +shipping tax extra)
These are handmade.
No two Sarees are equal..
even if from the same loom,
with same design,
and even same batch !!

Handloom can't compete with machines.
The weaver works 12 to 15 hours a day for 10 to 12 days to prepare one.