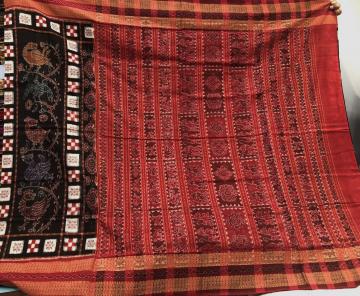 A blaster from our master weavers diaries of fine weaves.

A tremendously beautiful blend of Ikkat & pasapalli cotton weave has left anyone in awe of its exquisiteness. T

his majestic weave has it all Beautiful birds showcasing their gracefulness, Singha( lions), Harina(doting deers) , Meena (fish) , elephants & flowers ( Pushpa) and many more for you to unravel when you envelope yourself within it and those thick borders guarding the traditions.
OUT OF STOCK
Rs.16000.00
($
251.97
) Condition New
(shipping +shipping tax extra)