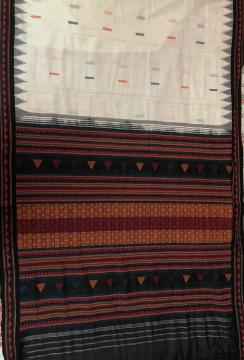 A Dongria white drape. Dongria Kondh sarees are famously known as `Dongrias`.

This isn`t just a saree, it is an epitome of great valour and silent sacrifices made by the weavers of `Nilayamgiri` hills and who are it`s protector.

This white cotton Dongria has been accentuated with multitude of colours and geometric patterns in red, splashy orange, intense black and prosperous green.

These colours are inspired from dense forests on the foothills of `Niyam Raja` the weavers beloved `Nilayamgiri hill`.
OUT OF STOCK
Rs.8000.00
($
126.98
) Condition New
(shipping +shipping tax extra)