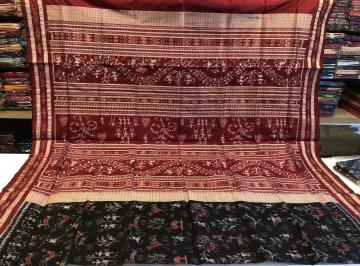 Beauty lies in the eye of the beholder.

A black beauty with maroon border that has those traditional and rare motifs of fish (Meena) with pushpa (flowers).

This saree speaks volumes.It speaks about an artist`s creation from his dreams.An array of men and women holding bows, acrobats in air, graceful deer`s and cheerful chirping women all form part of this tribal canvas of life.

Tribal art brings back an era of opulence when created and especially worn by a women. In this silken Ikat weave of Odisha the motifs are carefully chosen to match the sophisticated pallettes.

Devouring oneself to this black beauty promises a woman of substance and integrity.

Artisanal is beautiful indeed.
OUT OF STOCK
Rs.18000.00
($
283.46
) Condition New
(shipping +shipping tax extra)