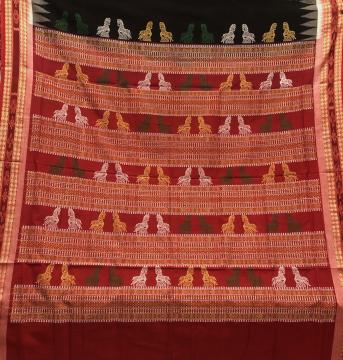 The exclusive designs of cotton sarees are best seen at Orissa Handloom.
The motifs, the colours and the border of the Bomkai sarees are simply poetic and graceful.
The combination of impressive black and blazing red colour of the saree supports the wonderful motifs, which makes it outstanding from other varieties.
The entire body is woven with wheel motif; the anchal of the saree has horse, fish and other intricate motifs of the weaver's imagination. The border of the saree is laden with motifs of rudraksh, temple and various other traditional weaving, inherent for Bomkai.
Rs.6500.00
($
103.17
) Condition New
(shipping +shipping tax extra)