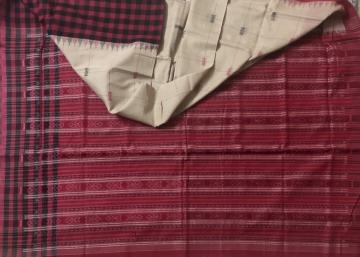 Odisha handloom has various types of weaving and colouring process for sarees.
One of them is called Ikat. The Ikat process is; the yarn is dyed and woven into a saree with traditional motifs.
Since they are traditional the ancestral expertise is found in these sarees.
The entire body of the saree is creatively depicted by the small designs of weavers inventive artistry with fish motifs.
The phoda kumbha on the checks border in the cotton sarees are
pieces to be seen and appreciated.
Orissa handloom has taken up the cause to preserve the sanctity and tradition of these fading weaving and motif techniques.

Actual shade of the body is slight dull than the pictures to make it perfect contrast with the border and Aanchal .
Rs.6800.00
($
107.94
) Condition New
(shipping +shipping tax extra)