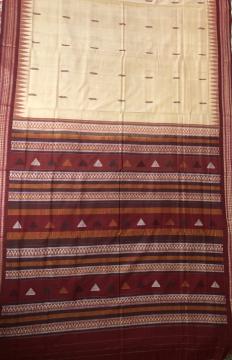 Beige and maroon red a heavenly pious colour combination especially chosen by the weaver to keep the spirit of festivity alive in our hearts every time you drape this cotton beauty around you.

The beatitude has magnified with geometrical patterns on the anchal giving a feel of `Dongrias` when Bomkai is still on.


Not to miss the temple like motifs in `mild red` on borders. A perfecto indeed. Blend of ethereal colours and festivity.
Rs.4500.00
($
68.18
) Condition New
(shipping +shipping tax extra)
These are handmade.
No two Sarees are equal..
even if from the same loom,
with same design,
and even same batch !!

Handloom can't compete with machines.
The weaver works 12 to 15 hours a day for 10 to 12 days to prepare one.